Kicking Horse Powder Express

The Kicking Horse Powder Express allows you to give one of Canada's newest ski resorts a try in a day. The Kicking Horse Powder Express is our most popular ski-away day out of Banff and Lake Louise.
Kicking Horse offers the greatest vertical in the Rockies with its longest run being 10 km (6 miles). View our Kicking Horse Ski Resort statistics page for details.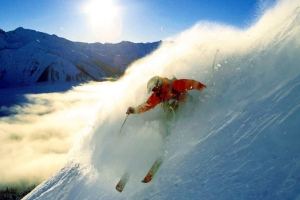 With plenty of steep and deep, Kicking Horse offers some of the most challenging terrain. If one day is not enough, visit our Kicking Horse ski accommodation page for some on-mountain accommodation options including our most popular on-mountain Vagabond Lodge Bed and Breakfast. Not all of our properties are listed, so please contact us and we would be happy to find something suitable.
Minimum numbers are required for this ski bus to operate, however, please always contact us to check availability as minimum numbers are usually reached.