Lake Louise Heli-Skiing Tours
In Lake Louise , you are just one hour away from the heli-ski base and the start of your ultimate lifetime experience.
These heli-ski and heli-snowboard tours are for high intermediate to expert skier or snowboarders only.
The skiing and snowboarding takes place on alpine glaciers and open slopes, as well as in the trees and gladed areas of the subalpine forest with the backdrop of the fabulous mountain landscape.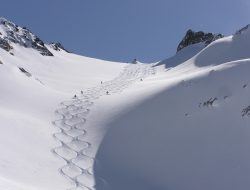 Spectacular scenery, pristine snow, diversified terrain. The heli-ski company we work with strives to meet guests' needs and provides the most exclusive, safest heli-skiing and heli-boarding experience possible.
The heli-ski area lies a few minutes flight away and covers over 2000 square km - west of Golden and North of the Bugaboos - in the Purcell Mountains. These mountains of Interior British Columbia are famous for their reliable amounts of fresh snow and exceptional powder.
There are more than 200 runs offering every conceivable type of mountain terrain and exposure.
Multi-day tours and private group tours are available - please contact us direct for details.