Fernie Ski Holidays
Fernie is located in beautiful British Columbia in the Canadian Rockies, east of Vancouver, north of Montana, U.S.A., and south west of the Calgary International Airport YYC. For our international guests, Calgary International Airport YYC would be the airport to fly into and from there, you can either catch a flight to the Canadian Rockies International Airport (formally know as Cranbrook Airport) or take a scheduled or private transfer which takes about 4 hours each way.
The local topography of mountains and valleys gives Fernie its own microclimate. The Rocky Mountain range that gives the area its beauty, also protects it from extreme temperatures often experienced by nearby Alberta.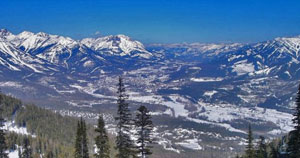 Wind is a rare commodity in Fernie, which means in the winter, the snow stays put and stays soft, instead of becoming a wind blown crust. In winter, you can tackle more than 2,000 acres of some of the finest skiing and snowboarding in the Rockies at Fernie Alpine Resort. Fernie Alpine Resort is now considered as one of the premier powder ski resorts and ski destinations in Canada.
When you ski at Fernie Alpine Resort, you also have the opportunity to use your ski pass at Kimberley Alpine Ski Resort for a day.
Fernie's winter trail network is perfect for cross-country skiing, snowshoeing, snowmobiling, dog-sled tours and cat-skiing.
The Glacier National Park is about 2.5 hours drive away which is part of the International Peace Park joining Waterton National Park in Alberta. This park preserves over 1,000,000 acres of forests, alpine meadows, and lakes and its diverse habitats are home to over 70 species of mammals and over 260 species of birds.
There are many on-mountain ski-in/ski-out ski accommodations available at Fernie Alpine Resort just 7 km from downtown Fernie .