Kimberley Ski Holidays
Kimberley is located in British Columbia just 123 km from Fernie.
Like Fernie, Kimberley receives great weather. Cranbrook, located just 20 minutes south of Kimberley, gets the most hours of sunshine of anywhere in British Columbia making Kimberley an ideal resort for families.
With an elevation of 1,116 meters (3662 feet), Kimberley is the second highest city in Canada (Banff being the first).
It is the site of the Sullivan mine, one of the world's largest lead and zinc producers. The mine's owner, the prospector Pat Sullivan, founded the city of Kimberley when he staked his claim there in 1892. Originally called Mark Creek Crossing, it was renamed Kimberley in 1896 and incorporated as a city in 1944. As well as the many shops and restaurants Kimberley has to offer, other attractions include the Marysville Falls, Cominco Gardens, Bavarian City Mining Railway and the largest cuckoo clock in Canada.
For our international guests, Calgary International Airport YYC is the airport you would fly into and from there, you can either catch a flight to the Canadian Rockies International Airport (formally know as Cranbrook Airport) or take a private airport transfer service which takes about 4 hours each way. Another option is car rental which, unless you are an experienced winter driver, we do not recommend.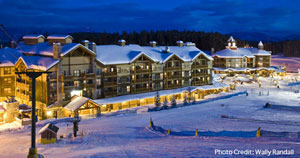 The nearby Kimberley Alpine Ski Resort has some ski-in/ski-out ski accommodations available and offers some fantastic cross-country skiing. When you ski at Kimberley Alpine Ski Resort, you also have the opportunity to use your ski pass at Fernie Alpine Resort for a day.