Canmore Ski Holidays
Canmore, situated in Alberta, just 20 minutes from Banff, was established in 1883 and, began as a coal mining town, driven by the needs of the railroad development which was moving west into the Canadian Rockies.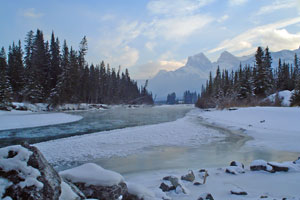 The name "Canmore" came from Malcolm of Canmore, King of Scotland from 1057 to 1093. The town was named in his honour. Canmore translated actually means "big head". You can also see a "big head" statue on main street by "policeman's creek" which was added in September 2008!
Canmore remained an active coal mining community until 1979, one of the most important coal mining centers in southern Alberta. Today its main industry is tourism.
Since the Calgary 1988 winter Olympics, Canmore's population exploded from about 3,000 to almost 11,000 residents. Today, there is little evidence of Canmore's coal mining days, you have to look hard!
Canmore has a great location, less than 1.5 hours from Calgary's International Airport using our private or scheduled airport transfers and five minutes east of Banff National Park.
There are many winter tours and activities, including plenty of cross-country skiing trails with the nearby Nordic Centre built for the 1988 Calgary Winter Olympics. The scenery will blow you away, with views of the mountains in every direction.
Unfortunately there are no ski shuttles offered from Canmore at this time, however, we do still offer free delivery of your Tri-Area lift passes to your Canmore ski accommodation.