Winter Tours in Jasper, Canada
Jasper in the winter time is as spectacular as the summer months.
Although Jasper is a little further from Calgary International Airport than some of the other nearby resorts, it is worth the extra travel time as it is a lot quieter over the winter months.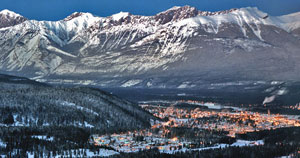 The tours opposite compliment the excellent skiing and snowboarding available at the Jasper Marmot Basin Ski Resort and most are perfect for a "rest day". If you are not wanting a "rest day", there are also tours for the active and adventurous such as Jasper Heli-Skiing and Heli-Boarding as well as Jasper Heli-Snowshoeing.
Click on the links opposite for more information or check out some of our advice on Jasper winter tours below.
When you are ready to book, just contact us.