Jasper Dog Sledding Tours
This tour begins with a 1.25-hour journey along the historic Yellowhead highway to the Small River rest area west of Valemount, BC.
Your experienced guide will teach you how to use the sled and work with the dogs.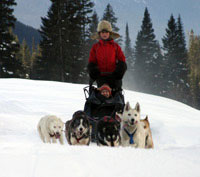 You will then have the opportunity to drive your own team of sled dogs past snow-covered trees, waterfalls, open meadows and abundant wildlife.
For those not wanting to drive, simply snuggle in the sled and soak up the incredible scenery.
Enjoy a native-style campfire lunch alongside a mountain stream.
Dress in your ski gear including a hat and neck warmer as you may need to cover your face. Warm boots are also recommended.