Jasper Winter Wildlife Tour
On this Jasper sightseeing tour, you will embark on a tour of one of the most spectacular areas of Jasper National Park.
From this area you will travel through the Maligne Valley in search of Osprey, eagle, big horn sheep, mountain goat, moose, elk and deer.
Bear may also be spotted in the late Autumn as they prepare for hibernation and in the early Spring as they emerge out of their dens.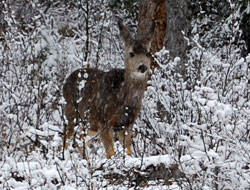 Stops include Maligne Canyon where 10,000 years of erosion have created a 165-foot deep gorge. From here, you will depart on a short stroll in search of wildlife whilst taking in the scenery.
You will have the opportunity to photograph the spectacular Maligne Lake. Have your cameras ready as these areas are rich in wildlife and scenery.